Author Info: Lily Harlem
Gender: female
Hometown:
About: Lily Harlem is a bestselling, award-winning author of sexy romances. She lives in the UK and writes for several publishing houses including HarperCollins, Totally Bound, Pride, Evernight and Stormy Night Publications. She also features in numerous UK and US anthologies, some of which all proceeds go to charity.

Her books are a mixture of full length novels and short stories, some are one offs, some are sequels or part of a series (all can be enjoyed as standalone reads). What they all have in common are colourful characters travelling on everyone's favourite journey — falling in love.

Sign up to Lily's newsletter to get a FREE eBook. Buy HIRED book #1 in her HOT ICE series for just 99c/99p and get book #2 for FREE. Details on her website.

SOME OF Lily Harlem WORKS: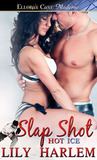 Sponsor Video