Author Info: Pat Barker
Gender: female
Hometown: Thornaby-on-Tees, Yorkshire
About: Pat Barker was born in Thornaby-on-Tees in 1943. She was educated at the London School of Economics and has been a teacher of history and politics.

Her books include the highly acclaimed Regeneration trilogy Regeneration ; The Eye in the Door , winner of the Guardian Fiction Prize; and The Ghost Road , winner of the Booker Prize; as well as seven other novels. Pat Barker is married and lives in Durham, England.

SOME OF Pat Barker WORKS: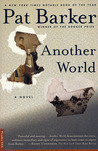 Sponsor Video