Author Info: Ben Goldacre
Gender: male
Hometown:
About: Ben Goldacre is a British science writer and psychiatrist, born in 1974. He is the author of The Guardian newspaper's weekly Bad Science column and a book of the same title, published by Fourth Estate in September 2008.

Goldacre is the son of Michael Goldacre, professor of public health at the University of Oxford, the nephew of science journalist Robyn Williams, and the great-great-grandson of Sir Henry Parkes.

SOME OF Ben Goldacre WORKS: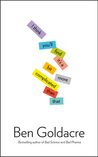 Sponsor Video